COURSE OBJECTIVES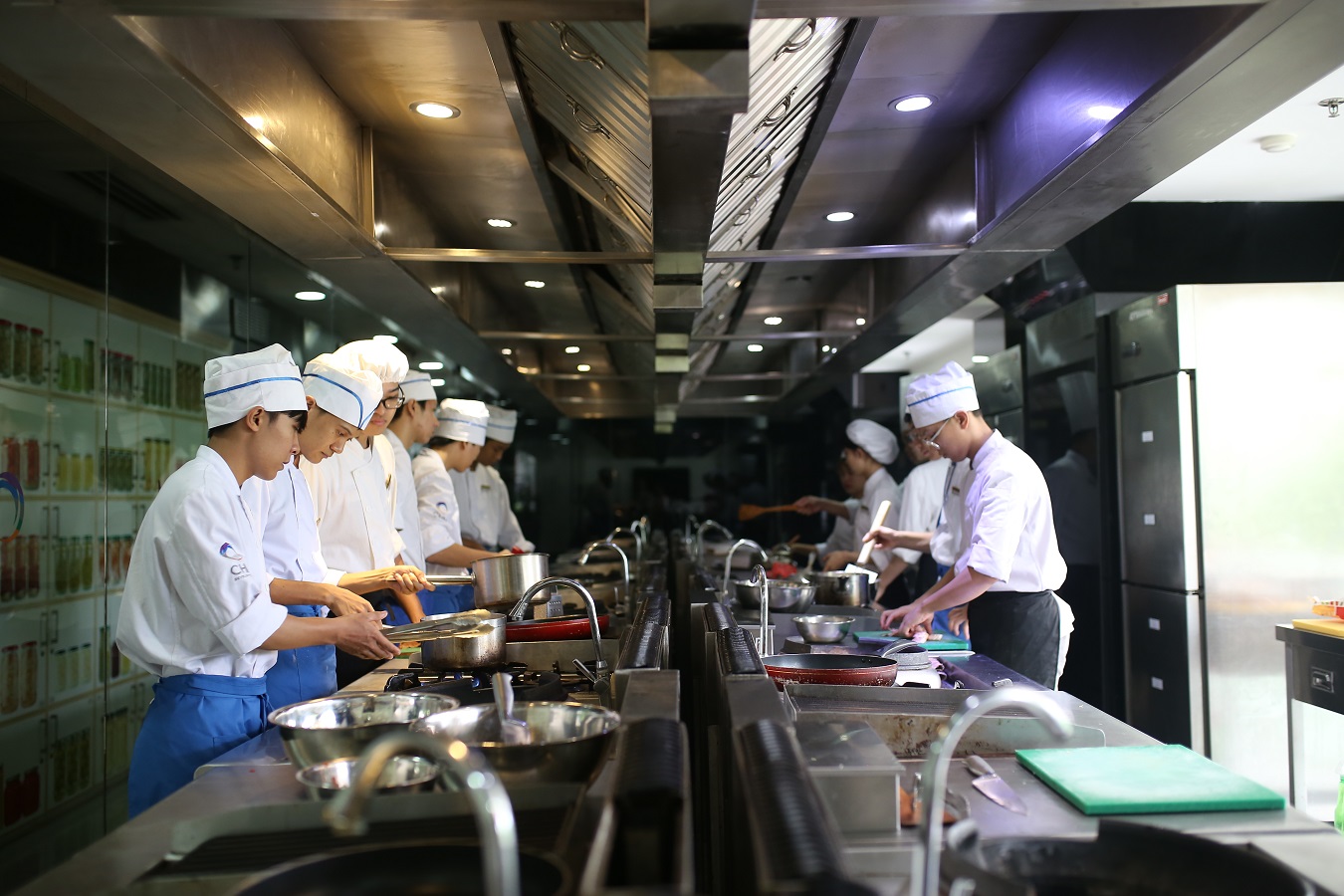 Help students understand all aspects of Culinary Arts area and master the skills from basic to specialized in professional cooking

CHM graduates have international standard skills so they can work at 4 or5-star hotels in Vietnam and abroad

At least 3 months of work experience related to culinary arts in an international environment before graduating

WHY CHOOSE TO STUDY CULINARY ARTS AT CHM INTERNATIONAL INSTITUTE

Study program according to UK standards was verified by the Federation of Tourism and Hospitality (CTH)

5-star standard training facility and study environment close to the actual working one

Professional Lecturers who experienced training and working in famous global hotel groups

The study time is optimized

Internship at 4 or 5-star hotels during studying courses

WHO SHOULD JOIN THE COURSE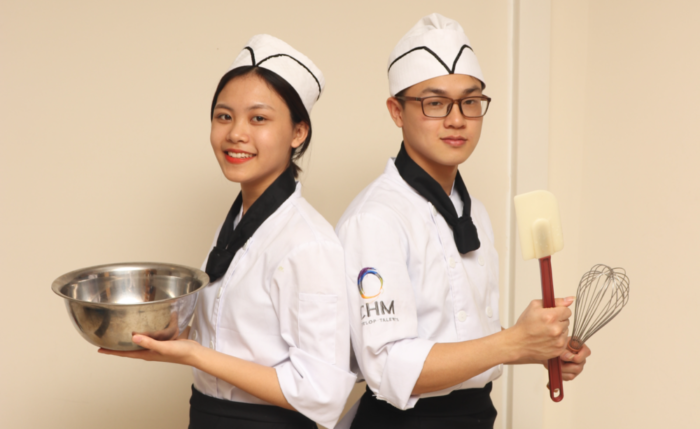 High school graduates want to pursue culinary industry and become a professional chef that meets the international standards

People working in culinary industry want to improve their knowledge and skills to develop their career path

People who begin learning about culinary area have demand for joining from basic to advanced training courses in a short time
Have nation and international degree recognized in over 150 countries
Committed to having job after graduation
Can enroll transnational education program to study abroad and receive International Bachelor's degree in Culinary Arts
OUR LECTURERS
Professional lecturers who have many years of experience teaching as well as working at well-known global hotel groups in the world such as Accor, Marriott, IHG, … are evaluated that having outstanding and efficient teaching style.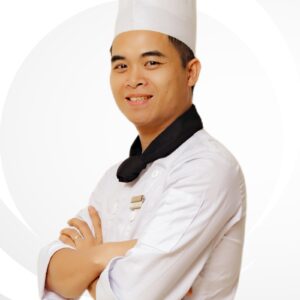 Camaron Hoang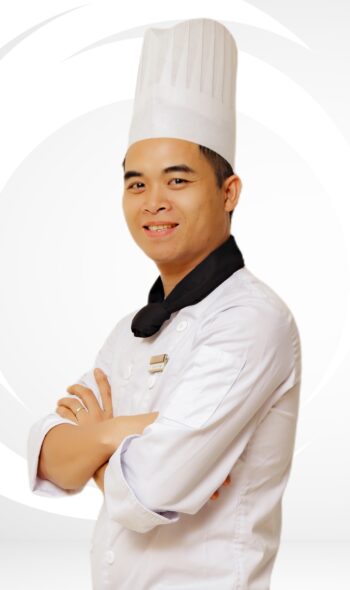 Camaron Hoang
Culinary Arts Program Manager
;
Camaron has more than 15 years of experience working and teaching at KOTO Vocational Training before transferring to the faculty of Culinary Arts for CHM International Institute. His knowledge base is a subtle combination of multicultural culinary culture. "The art of culinary arts is a passionate subject of passion for the profession. The characteristics of this industry are meticulous, patient and skillful from the stage of selection, raw materials to the finished products to the customers ", says Camaron. He had great merit in spreading the fire and career direction for the generations of CHM students.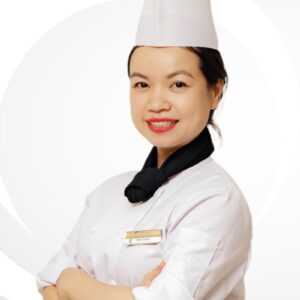 Quesa Doi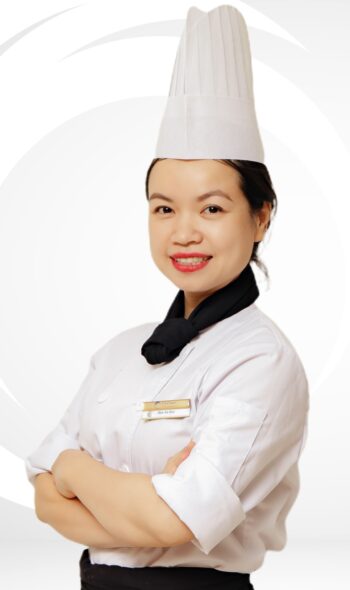 Quesa Doi
Culinary Arts Lecturer
;
Culinary Arts Lecturer/Chef Quesa Doi graduated from Le Cordon Bleu Paris, majoring in Boulanger & Baking Arts and Confederation of Tourism & Hospitality, majoring in Professional Cookery. With her natural ability and years of experience at different five-star hotels, she has participated in and achieved many culinary awards such as Cup for Best Dessert & Gold Medal for Live Making Dessert – Vietnam Culinary Challenge 2019; Representing Vietnam to perform Vietnamese Desserts in Russia and Korea in 2019; Top 10 Most Delicious Dishes at The Street Food Festival 2017, etc. She is now working at CHM as a Culinary Arts Lecturer specializing in Bakery and Pastry with the hope of guiding and training students to become professional Pastry chefs in the future.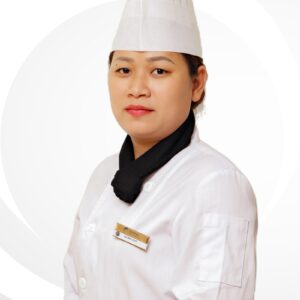 Lily Vu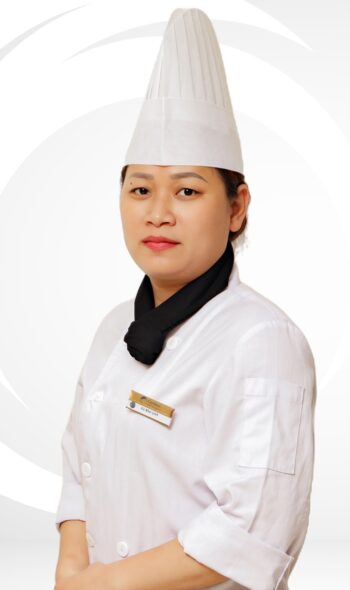 Lily Vu
Culinary Arts Lecturer
;
Born in Hanoi, the cradle of culinary and cultural traditions in Vietnam, Lily has always been passionate about cuisine since she was a little child. After graduating from Hoa Sua School of Economic and Tourism, majoring in European, Asian cuisine and French pastry, Lily decided to work at her beloved school as a European Cuisine Teacher to enhance own personal skill set and knowledge base. With 20 years' experience in the industry, Lily is now joining CHM as a Culinary Arts Lecturer to share her knowledge and passion to younger generation.
Yestin Le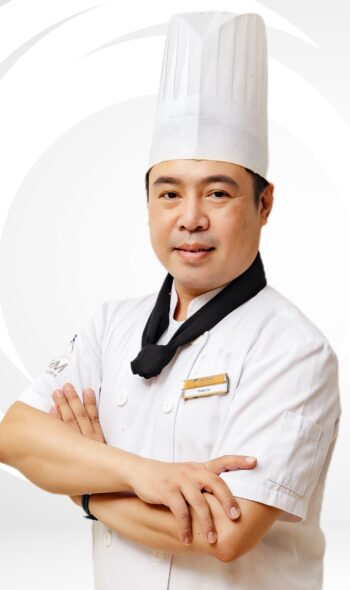 Yestin Le
Culinary Arts Lecturer
;
Yestin is known for his roles as a Vietnamese Culinary Artist, a Culinary Consultant on Hanoi 1 and VTC2 Channel, and also a Culinary Arts Lecturer of CHM International Institute. With more than 20 years of experience working in various hotels and restaurants throughout Vietnam such as Asean hotel, Horison hotel, Huong Sen restaurant, Paramount restaurant, Marriot restaurant and so on, Yestin is an inspirer for his students on the way of becoming a Chef.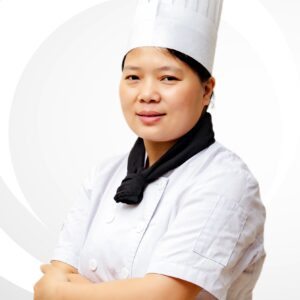 Alice Nguyen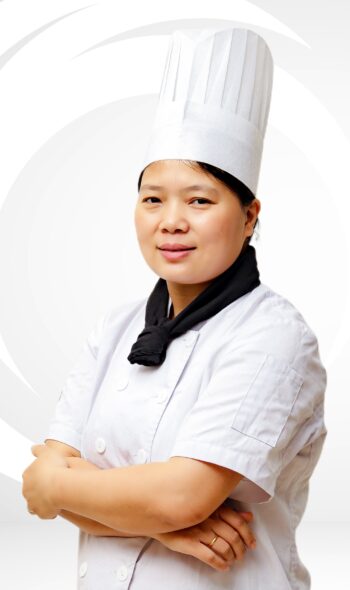 Alice Nguyen
Culinary Arts and Baking Arts Lecturer
;
With more than 13 years of experience in the field of French Pastry, Ms. Nghia is currently the Business Owner of Tuan Nghia Cake Company which provides bakery products for many restaurants and hotels. During the years of teaching and working, Ms. Nghia is always a person who inspires the next generations and leads them to success. Currently, Ms. Nghia is working as a Culinary Arts and Baking Arts lecturer at CHM International Institute.
ACKNOWLEDGMENTS OF STUDENTS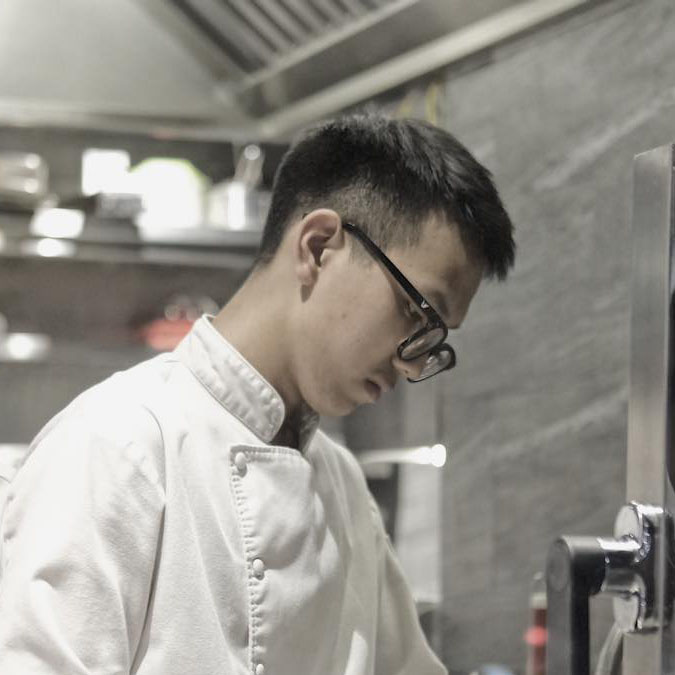 Nguyễn Thanh Bình
Cooking Chef of T.U.N.G dining
"The thing that impressed me the most when I took the culinary arts course was facilities. We soon had the opportunity to approach the working environment close to reality through our practical class, so we did not feel too surprised when going to work. Besides that, the lecturers are extremely friendly, enthusiastic and give students many useful techniques."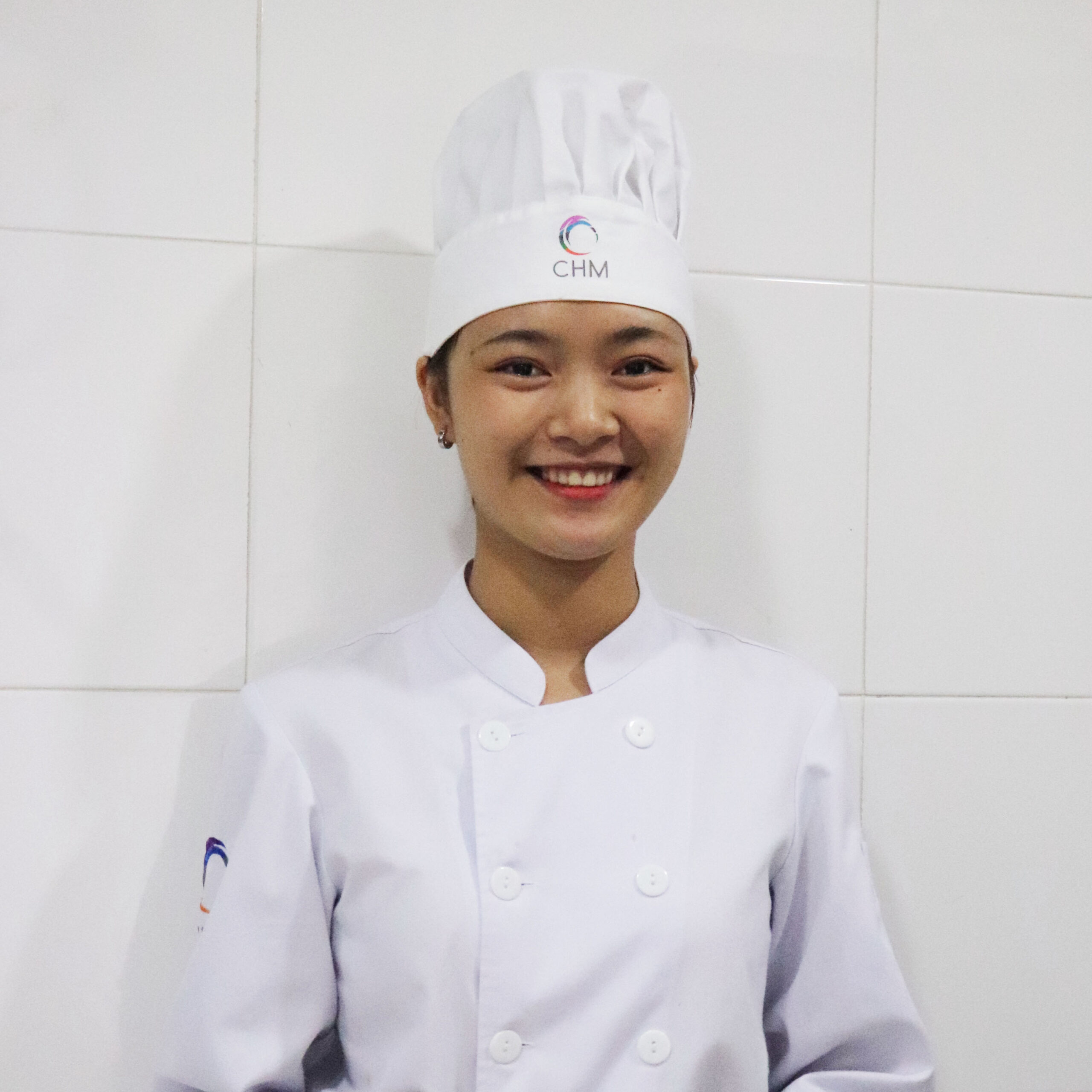 Nguyễn Phúc Minh Ánh
Student of Culinary Arts Class
"CHM is the place where our dream of being a Chef can become true. During course, 80% of learning time is practicing. I am equipped with specialized tools and especially high-end knives to study, which allows me to confidently learn and practice skills most effectively."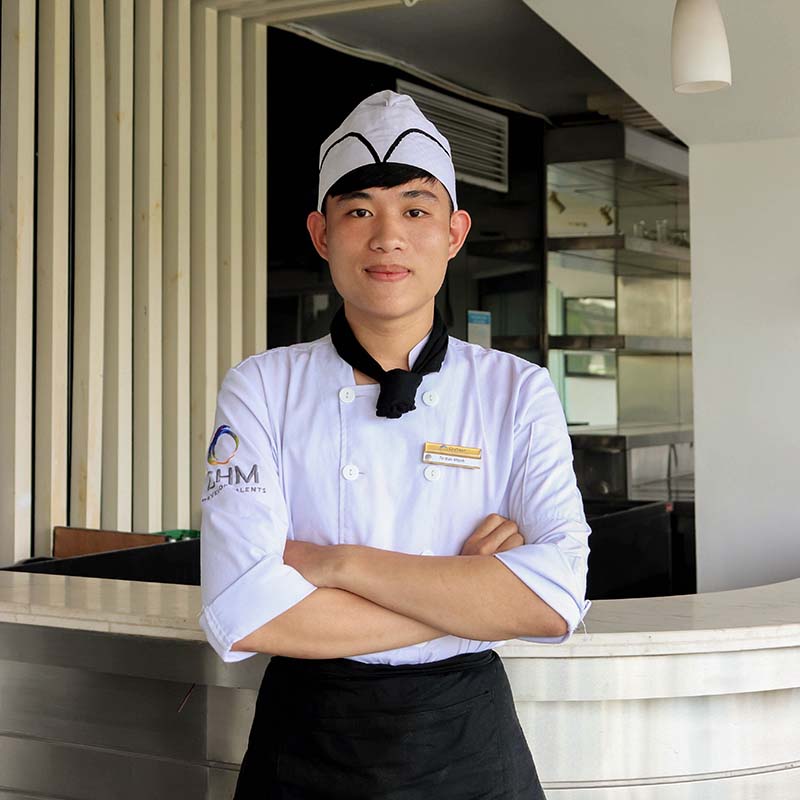 Từ Đức Mạnh
Student of Culinary Arts Class
"By studying at CHM, I was able to gain extensive knowledge about Asian and European cuisines as well as the skills required of a professional chef. The teachers are always willing to answer questions and share useful work experiences. I feel that this is really the right environment for me to convey my dream of developing the food industry."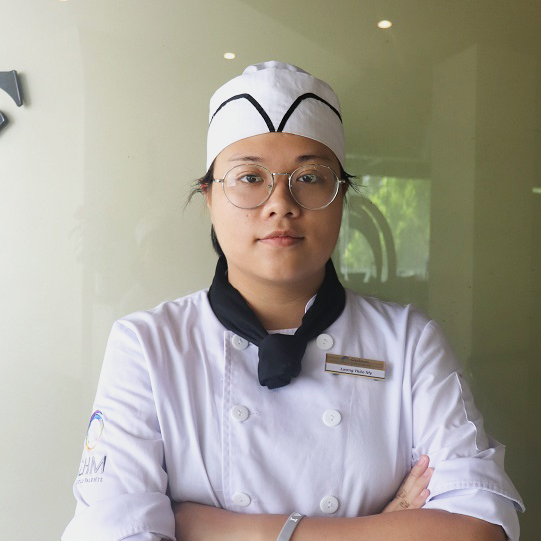 Lương Thảo My
Student of Culinary Arts Class
"I feel CHM is like a second home. The lecturers and staff are always enthusiastic to support students from learning to other difficulties in the learning process. In addition to studying in the school, CHM also has practical meetings at hotel restaurants, picnics and especially culinary competitions that give me the opportunity to experience more."
The program helps students grasp the necessary knowledge and skills in cooking Asian and European dishes. Students are equipped with professional skills from basic to advanced according to international standards. Besides that, they are also trained in the soft skills required for the job.
Culinary Arts Courses
CTH Level 2 Course

1.

Practice producing Asian dishes

2.

Practice producing European dishes

3.

Skills for making bread – cakes

4.

English Specialized Kitchen

CTH Level 3 Diploma Professional Cookery Course

1.

English Specialized Kitchen

2.

Skills for preparing, producing and presenting vegetables, sauces and soups

3.

Skills for preparing, producing and presenting types of meat

4.

Skills for preparing, producing and presenting fish and seafood

5.

Skills for preparing, producing and presenting frozen, cold and hot desserts

6.

Skills for baking

7.

Other subjects

CHM Culinary Arts (VTOS Standard) Course

1.

Kitchen Organization

2.

Preparing the work area

3.

Basic cooking methods

4.

Basic knowledge about food

5.

Basic cutting skills

6.

Broths and sauces

7.

Other subjects
SCHEDULE FOR CULINARY ARTS COURSES
Short-term Course

Short-term Course I

Opening

Monday 06/07/2020

Time

6 months

Schedule

Monday – Tuesday – Wednesday – Thursday – Friday

Class

08:30 – 12:00 or 13:30 – 17:00

Short-term Course II

Opening

Monday 07/09/2020

Time

6 months

Schedule

Monday – Tuesday – Wednesday – Thursday – Friday

Class

08:30 – 12:00 or 13:30 – 17:00

CTH Level 3 Diploma Professional Cookery Course

CTH Level 3 Diploma Professional Cookery Course I

Opening

Monday 06/07/2020

Time

1 year

Schedule

Monday – Tuesday – Wednesday – Thursday – Friday

Class

08:30 – 12:00 or 13:30-17:00

CTH Level 3 Diploma Professional Cookery Course II

Opening

Monday 07/09/2020

Time

1 year

Schedule

Monday – Tuesday – Wednesday – Thursday – Friday

Class

08:30 – 12:00 or 13:30-17:00

CHM Culinary Arts (VTOS Standard) Course

CHM Culinary Arts (VTOS Standard) Course I

Opening

Monday 06/07/2020

Time

6 months

Schedule

Monday – Wednesday – Friday

Class

18:00 – 21:00

CHM Culinary Arts (VTOS Standard) Course II

Opening

Monday 05/10/2020

Time

6 months

Schedule

Monday – Wednesday – Friday

Class

18:00 – 21:00