The Taste of Australia cooking competition is one of annual events that celebrate and promote Australian cuisine, culture and cooking style throughout Vietnam, hold by the Embassy and Australian Consulate General. This year is the 4th season the competition has taken place in Vietnam.
On the morning of May 24, the final round of the competition took place at Le Méridien Saigon Hotel, District 1, Ho Chi Minh City with the participation of 4 teams from Hanoi, Da Nang, Nha Trang and Da Lat. After 2 rounds of tough competition, which lasted for more than 4 hours, two contestants Nguyen Manh Dung and Nguyen Duc Phuong from CHM International Institute team overcame fierce competition from 3 rival teams and had Win with a great combination of talent and creativity.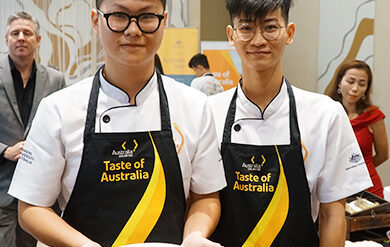 Our CHM students won two full scholarships including accommodation costs worth AUD 76,600 (over VND 1.2 billion) at Blue Mountains International Hotel School in New South Wales, Australia.
Ms. Julianne Cowley, Australian Consul General in Ho Chi Minh City, expressed her joy when the contest ended well: "The teams that are going to the finals this year are all very talented. They are creative and flexible when combining the great Australian ingredients and Vietnamese ingredients in a harmonious way, to create unique dishes."
As a judge of the final round, Chef Ngo Thanh Hoa commented that this year, all of teams were mostly strong in skills. "I hope the young chefs will know how to use the strengths of the Vietnamese, the abundant sources of ingredients to enhance the cuisine of the country" he said. This chef said that Vietnamese cuisine was developing, so there were many opportunities for young people to have more new experiences.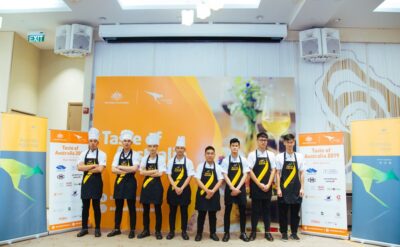 This is the fourth season the competition takes place in Vietnam. The first contest, in 2016, took place in Ho Chi Minh City and then, in 2017, the competition was expanded throughout our country to promote cuisine, cooking style and country culture of Australia.
Through many activities, the organizers introduced the fresh Australia materials, which can be combined with ones in Vietnam to create new dishes.
The judges and coaches in the final round of this year were Australian Ambassador to Vietnam, Mr. Craig Chittick, Australian Consul General in Ho Chi Minh City, Mrs. Julianne Cowley, King Chef Ngo Thanh Hoa and Head of Recruitment Department. in Asia, the Blue Mountains School of Hospitality Management, Mr. Raffael Stangl.